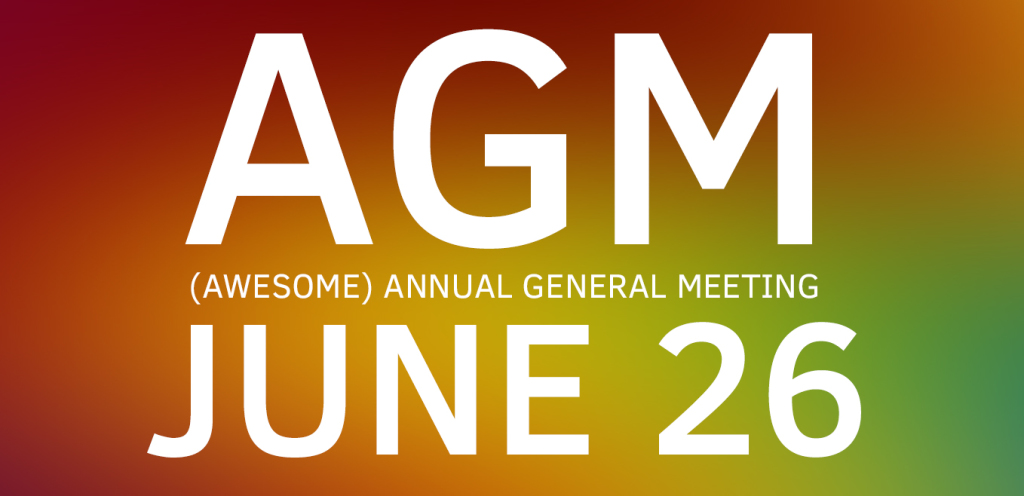 What does our AGM involve?
As a charitable organisation, we have to hold an annual general meeting (AGM) every year. What happens is that the people responsible for the running and organisation of RY, the board, use the AGM as a chance to report about all the happenings of the last year to its members (YOU GUYS).
There are boring bits (like how much money we have) but there are also über fun things like free food, chatting about our campaigns and also getting to enjoy some super cool company.
Why should I come?
The free food, obvs.
The AGM is YOUR chance to have a say about how RY is run and what we do.
We also elect our new board for the next annual term!
If you think you have what it takes to be a board member, then submit an online form.
Changes to our constitution!
Some other official stuff needs to happen too – like voting on some proposed changes to our constitution. This is decided by RainbowYOUTH members – so if you are one, come along and help decide.
Proposed constitution changes:
Change of language from 'trans*' to 'gender diverse'
Co-chairpersons elected for two years, at alternating AGM's
Change to order of voting of Executive Board and Office Holder and Representative Positions
Introducing a review process for the positions of Co-chairperson, Treasurer and Secretary.
Clarification of quorum and resignation requirements.
Find more details about the proposed changes to our constitution here.
Compare the old constitution and the proposed constitution changes here.
So come along, eat food, meet people and share your ideas with us!
AGM Agenda
Sunday, 26th June 2016
10:30am: Official opening of Level 1, 11 Edinburgh Street – All Welcome
11:30am: Kai!
12:30pm: Start of AGM Formalities
12:40pm: Officer reports
Co – Chairpersons : Rachel Brebner & Sophie Sills
Treasurer: Hamish Tait
Executive Director: Duncan Matthews
1:00pm: Motion to accept proposed changes to the RainbowYOUTH constitution
12:59pm: Motion to accept officer report and 2016 Accounts
1:20pm: Motion*:
"That the incoming Executive Board for the 2016/2017 term be tasked with reviewing the representation model on the RainbowYOUTH board, with regards to Māori, non-Māori, Gender Diverse and Intersex populations in Aotearoa. The Board will report back at the 2017 AGM."
1:25pm: Executive Board Elections
2:30pm: General Business
2:40pm: Karakia, meeting closed.
* Conditional upon the passing of proposed changes to the RainbowYOUTH Constitution