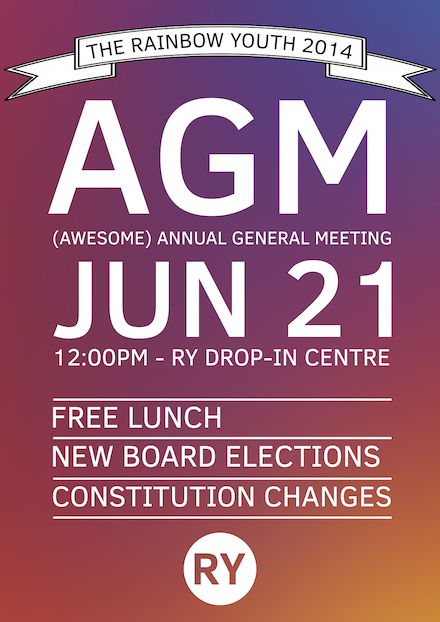 What does our AGM involve?
As a charitable organisation, we have to hold an annual general meeting (AGM) every year. What happens is that the people responsible for the running and organisation of RY, the board, use the AGM as a chance to report about all the happenings of the last year to its members (YOU GUYS).
There are boring bits (like how much money we have) but there are also über fun things like free food, chatting about our campaigns and also getting to enjoy some super cool company.
Why should I come?
The free food, obvs.
The AGM is YOUR chance to have a say about how RY is run and what we do.
We also elect our new board for the next annual term!
If you think you have what it takes to be a board member, then submit an online form.
Our ideal board member candidate has to:
Be familiar with the strengths and challenges of queer and trans* youth in Aotearoa
Represent the organisation in an official capacity as required
Contributor the vision and mission of RainbowYOUTH
Contribute to a core organisational committee
Regular meeting attendance
There is no experience required, however knowledge of RainbowYOUTH and the structure of governance boards would be an advantage
Changes to our constitution!
Some other official stuff needs to happen too – like voting on some proposed changes to our constitution. This is decided by RainbowYOUTH members – so if you are one, come along and help decide.
The proposed changes are as follows:
We propose that the positions of chairperson and vice-chairperson be replaced with two co-chairperson positions. The co-chairpersons will have joint oversight of RY strategy and operations and share the responsibilities of the role as agreed upon at the beginning of each term. Where possible, the co-chairpersons will be differently identifying to support a diversity of views at the governance level of the organisation.
We propose that the 'Takatapui Representative' title on the Rainbow Youth board is changed to the 'Maori and Pacific Representative' to more accurately reflect the cultural expectations that are being placed on the holder of this position.
We propose that the use of LGBT is updated to queer and trans* to better reflect the diverse identities of our community.
We propose that the quantified gender requirements for AGM quorum are changed to the requirement that there are diverse sexualities and gender identities that are reflective of our membership and our community.
We propose that the application process for running for the RY executive board is changed from nominations from the floor to applications submitted in writing at least a week in advance of the AGM to ensure that applications are well thought-out and that applications can receive feedback and guidance prior to presenting themselves in person at the AGM.
So come along, eat food, meet people and share your ideas with us!
AGM Agenda
12pm Saturday 21st June
12:00pm Centre opens & Kai
12:30pm Official Welcome & Kai
12:40pm Reports
1:00pm Voting:
Executive Board stand down
Representatives
Executive Board
Officers
2:00pm Acknowledgements and Closing