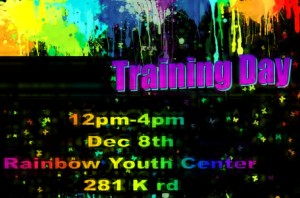 Training for volunteers, facilitators, shared experience representatives and people keen to learn leadership skills. You may already know heaps and need a refresher or you might not know anything and get to learn new and fabulous ways to facilitate groups, tell your coming out story in an education session and be a great volunteer for Rainbow Youth.
If you are keen to come to the training let us know. Numbers are limited so add yourself on Facebook and or confirm via email to [email protected]
RSVP by 5/12
If you are coming to the training but then cant let us know asap so others don't miss out.