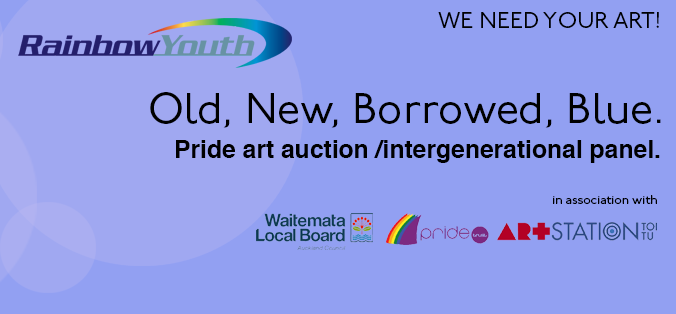 As part of the Auckland Pride Festival 2014, Rainbow Youth presents an amazing opportunity to showcase the varied talents of its members and supporters.
In association with Artstation and the Auckland Council, Rainbow Youth introduces 'Old, New, Borrowed, Blue', a Pride Art Auction and Intergenerational Panel being held on the 13th of February at Artstation in Ponsonby, with the art auction exhibition ending on the 15th of February.
Rainbow Youth is calling for art submissions from all generations, all artistic disciplines and all levels of professionalism – from amateur to established artists – to be included in the art auction portion of the event. The artwork should be themed around the theme of 'identity', aligning with the celebration of diverse identities that the Pride Festival focuses on. It could be a painting, a photograph, a sculpture, a print, a series of works, or even a zine. The event and art submissions are open to all.
The pieces will be sold at silent auction held at the Cell Block at the back of Artstation, following their reopening after extensive renovations. All proceeds will be go to support Rainbow Youth in their work to support queer and trans* young people across the country.
Rainbow Youth hopes this event will be a great opportunity for its artistic members and supporters, and encourages prompt submission, as there is limited space for artworks.
The intergenerational panel to be held in conjunction with the opening of the auction exhibition will be a forum of 5-6 young and not-so-young people from queer and trans* communities, many who have worked and continue to work to tackle queer and trans* concerns, brought together to discuss issues facing our communities and to respond to questions from attendees.
If you are interested in submitting artwork for this event please contact [email protected] to register. All accepted pieces are to be completed and delivered to the Rainbow Youth drop-in centre by Wednesday the 5th of February.