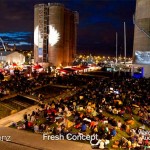 Silo Cinema is proud to present The Adventures of Priscilla, Queen of the Desert in association with the Auckland Pride Festival. Come and watch this colourful classic underneath the stars at Silo Park in Wynyard Quarter.
Follow Mitzi Del Bra, Bernadette Basinger and Felicia Jollygoodfellow on their crazy journey through the outback as they ride in their bus, Priscilla, from Sydney to Alice Springs.
Before the film starts, take a walk through the Silo Markets, grab a bite from some of Auckland's best street food vendors and a drink from the Silo Park Bar. Markets and Bar are open from 5pm, with Silo Cinema starting at 9pm.
All proceeds from Silo Cinema Pop-Corn for Charity will be going to Rainbow Youth, supporting young queer and trans people in our community. Special thanks to Waterfront Auckland for making Silo Cinema happen.
Pop corn sales are donated to RY… SO EAT LOTS AND LOTS AND LOTS OF POPCORN….
http://www.aucklandpridefestival.org.nz/events/film/priscilla-queen-of-the-desert/