Queen is a scream. Queen is a sass.
Queen is a laugh. Queen is a cry.
Queen is a voice.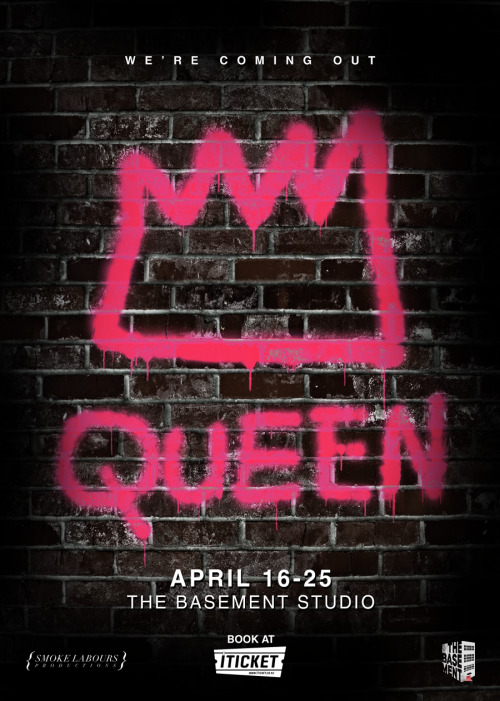 Smoke Labours Productions is proud to present this new play by Sam Brooks that puts the everyday plights of the gay man under the spotlight and explores the contradictions, difficulties and joys of being a young gay man in today's society. Queen is all the parts of being gay that people don't talk about: the community, the everyday mundanities and missing out on vital parts of life that come so easily to everybody else.
Queen is a voice where there needs to be one. It's angry, it's funny, it's unflinching and it gets to what it means to be gay here and now.
Writer Sam Brooks is 22 and graduated from the Unitec writing course in 2011. Since then, he's put on three plays; Goddess, Mab's Room and And I Was Like. Rainbow Youth had a quick chat with him before the final few days of the showing of Queen.
"Queen was inspired half by my own experience and half by other people's own stories. I feel there's a wealth of gay literature and theatre that has covered what it's like to be gay and a bit more adult, but there's not a whole lot of stuff that really covers the day-to-day life of being gay; the lack of role models, the identity crises and the relationships. So the lack of these stories really inspired me to write about them!"
"I think it's important to give a voice to young gay men in the modern world because we're in a state of such rapid change that so many stories of kids growing up gay in this transitional period in society's attitudes towards gay people are being lost. There's also just the fact that we aren't seeing these stories in the media or in literature and I think it's important for us to see them and discuss so we can move forward a a community. It gets better is a great motto, but it doesn't convey the reality of being young and gay in today's society."
Queen is running at The Basement Theatre until the 25th of April. Head over here to book tickets!