We got lots of warm fuzzies today when Jerome from PSSP (Peer Sexual Support Programme) stopped off at the drop-in centre to present us with a cheque containing money donated from a Pink Shirt Day mufti held at Rutherford College.
Jerome explains that "…the money fundraised was going to Rainbow Youth from the get-go, as everyone agreed that rainbow youth harmonised with the cause most."
Our General Manager, Duncan and our Centre Administrator, Sarah were there to receive the cheque which will go towards supporting young people in schools, those who come to our centre and groups, as well as our online Rainbow Youth and Curious websites.
We'd like to say a huge thank you to Rutherford College for their generous donation as well as all the other financial support received from our generous members and community organisations – we are extremely grateful!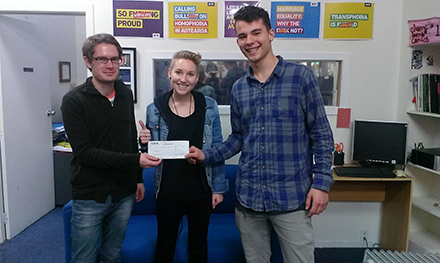 Every dollar counts towards the little things to help us keep our doors open and our lights on to support young queer and trans* youth, so if you'd like to donate, click here.