Welcome to the first of Rainbow Youth's series
Faces, Places.
During the next few weeks we'll be bringing you snippets of info about people who are engaged with our community. You'll get to meet board members, staff, community members, and other awesome folk from around Aotearoa.
If you know someone who should be profiled on the RY website, email [email protected]
First up: Samantha Vickery – Rainbow Youth Board, treasurer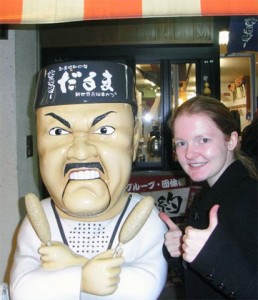 1) Why did you want to join the board?
For two reasons. Firstly, I saw it as a great opportunity to challenge myself and develop a whole bunch of skills in a role that I knew would be extremely rewarding. Secondly, and more importantly, I wanted to make a difference in our community. I truly believe that no person should be singled out in a negative way because of their sexuality or their gender identity, and to that end I wanted to support Rainbow Youth in the best way I could to make that belief become a reality.
2) What do you do for a job/ tell us a little bit about your background?
I moved to New Zealand in 2003 after growing up in the United Kingdom. I graduated from the University of Auckland with an Honours degree in Commerce, having completed a conjoint degree in Commerce and Arts prior to that. I'm currently working at Fonterra, which is a great place to be if you love free ice cream as much as I do!
3) What does GLBT equality mean to you?
To me, GLBT equality means that sexuality and gender identity are viewed as simply being one part of a person's overall identity and what makes them unique, rather than being a reason to be singled out, harassed, and denied certain rights. I'd love to live in a world where sexuality and gender identity completely cease to be an issue. We have a long way to go, but I'm optimistic and confident that we're making progress!
4) Five words to sum yourself up?
Enthusiastic, opinionated, bookish, open-minded, workaholic (for better or for worse!).
5) What three guest would join your table (living/dead) for the ultimate dinner party?
Alexander the Great: Would love to discuss strategy with him over a meal. They say that some of the best business strategists have studied military strategy! Tim Cook: Currently Apple's CEO and the most powerful gay man in the world, I'm sure he'd have some great ideas for RY. Stephen Fry: Possibly my favourite famous person in the world. Hilarious, highly-educated and yet humble.
6) What's your favourite house appliance/piece of furniture?
I love my stick blender. It has attachments to blend, chop, whisk, mash and purée. Nothing short of culinary heaven.