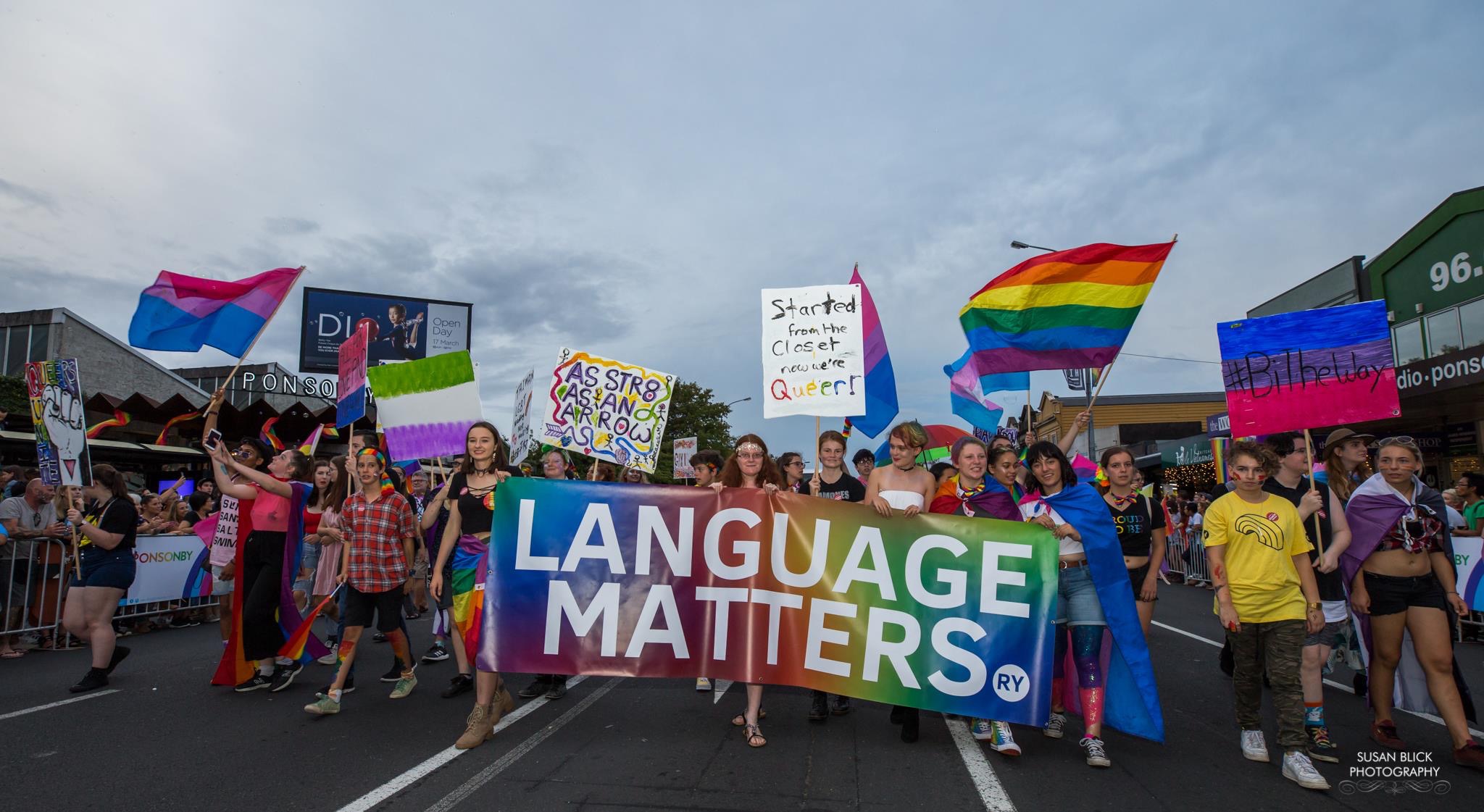 During the Auckland Pride Parade 2018, RainbowYOUTH staff & members witnessed two people walking in front of the parade holding a banner that said 'stop giving kids sex hormones, protect lesbian youth'. The banner reflects a wider coversation around transgender people within the rainbow community that focuses on challenging the legitimacy of their identities and posing gender diverse issues as being something directly opposed to feminism and women's rights.
At RainbowYOUTH, it's incredibly important to us to uplift and support the agency of all young people over their bodies, their identities and their lives. In a society that defaults towards questioning and challenging anything that falls outside of gender and sexuality "norms", queer and gender diverse young people need a safe space where they can explore and develop their identities. RainbowYOUTH's services are geared around informed decision making, building resilience in our young people and equipping them with skills they need to navigate life: including handling responsibility, self-care, building healthy relationships and finding a community of support.
Reflecting on his first time at RainbowYOUTH, Quinn – 21 year old member of RY – says that he had no idea what to expect. "Everyone thinks RainbowYOUTH is a cure-all for young rainbow people in NZ and it's a common misconception," he explains. "RainbowYOUTH can refer young people to mental health services and provide information on which GPs are trans friendly and what services are the best for getting on hormones and getting on the list for surgery, but they have no say in what that young person wants.
When I sat down in the RainbowYOUTH Support Manager's office for the first time, they made it clear that HRT and surgery are optional. They let me know that there is more to my identity than hormones and surgeries. RainbowYOUTH was the first and only service that didn't focus on my medical transition, they were more concerned with how I felt about myself and what made me feel happy.
I want to encourage people from outside of the Rainbow Community to come over to RainbowYOUTH and take time to understand what it is they actually do and to even get some support on how to support other people".