The University of Auckland Drama Club, Stage Two Productions, is bringing to New Zealand in May for the first time Luis Alfaro's 'Body of Faith'!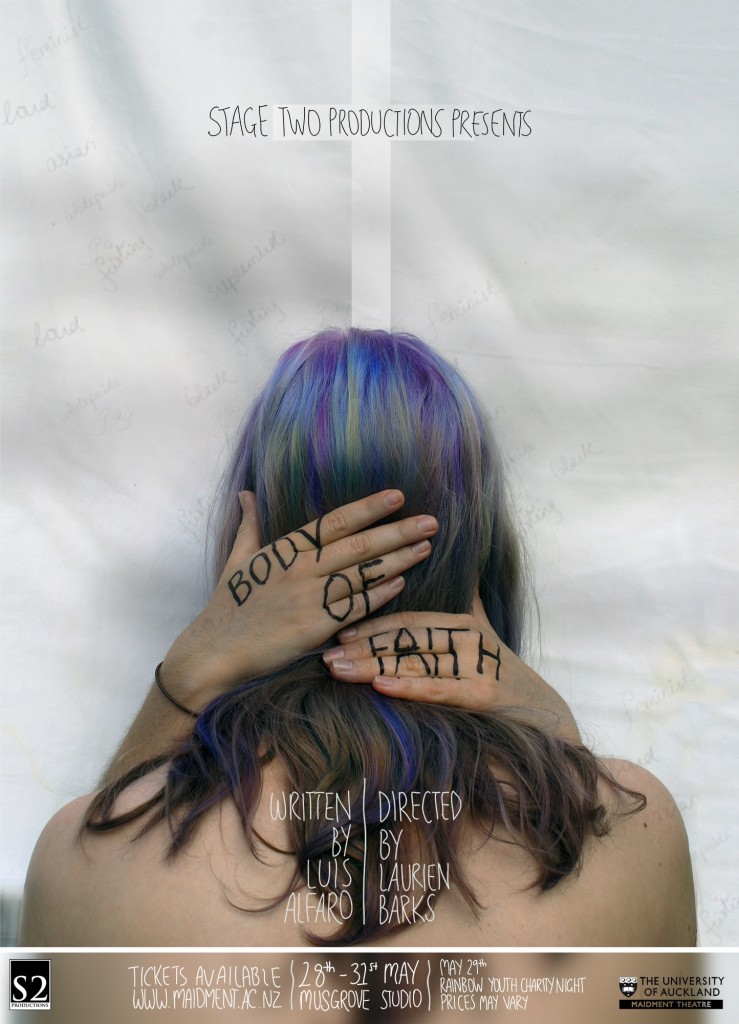 Based on a collection of real-life experiences, Body of Faith simultaneously celebrates and examines the relationship between identity and faith in the LGBT community. The poetic dialogue and graceful lyricism of the chapters encompass the emotions behind the victims of these common societal and religious biases, whilst challenging the traditional stylings of theatre. The music, rhythms, and non-naturalistic movement tell character stories in ways that words cannot, altering the familiar staged mentality of "Let me tell you my story" and turning it into "Come be a part of my story".
Rainbow Youth Charity Night
Stage Two Productions will be hosting a special charity performance on the evening of Thursday the 29th of May. To support the work that Rainbow Youth do with New Zealand's own LGBT youth, we are selling tickets to this performance for an extra $5, which will be matched by Stage Two Production's own profits and passed onto Rainbow Youth to assist them with their efforts.
Tickets for these performances and further details can be found here: http://www.maidment.auckland.ac.nz/uoa/home/maidment/whats-on-maidment/template/maidment_show.display?showId=602792
The Facebook Event Page can also be found here: https://www.facebook.com/events/283446418486322/?ref=br_tf
If you have any further enquiries, do not hesitate to contact the company via email ([email protected]).
** This piece is recommended for an R13 audience due to its mature content.**