1:1 Support
Finding well informed, non-judgemental and accessible support services around gender and sexuality can be particularly challenging in Aotearoa. RainbowYOUTH works with young people, their whānau and their wider communities to connect them with accurate and correct information and services that will provide safe and respectful support. We work in a strengths-based model and strive to work in frameworks that consider hauora, resilience and individual journeys.
Some things we often provide support and referral around (note: this is not an exhaustive list, and we will try our best to help with any request you may have):

Identity development and affirmation
Relationships with friends and whānau
Accessing competent and affirming mental health and addiction support
Accessing emergency housing and work and income services
We also recommend you have a look at our Info and Useful Links page, which has extensive lists of resources for a range of topics and issues.
---
Booking a support session
To book a 1:1 support session with our support team, please fill in one of the forms below. If you have any questions about what our support and referral services are like, please get in touch: info@ry.org.nz.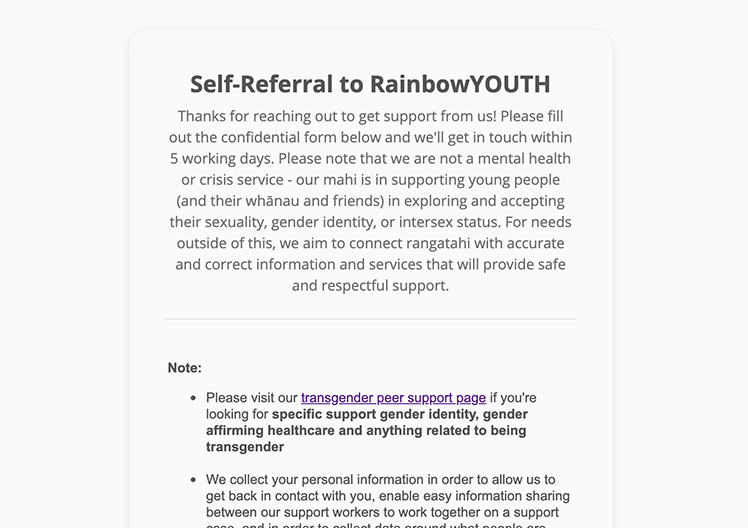 Self-referral
Use this form if you're a young person seeking support for yourself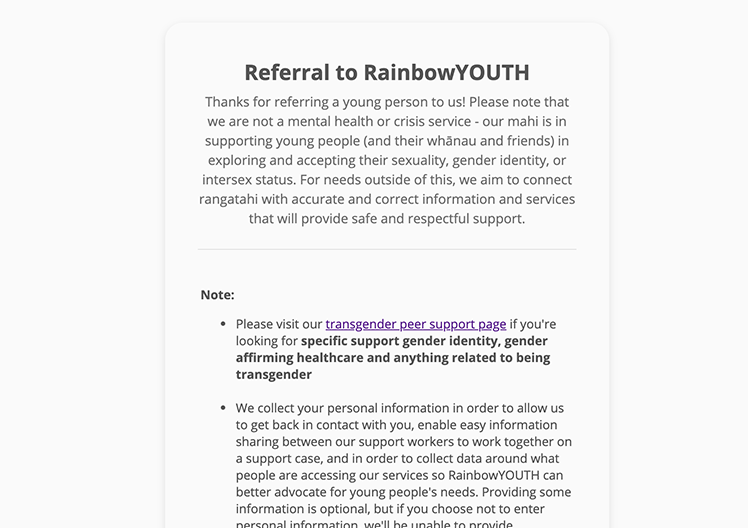 Referral for someone else
Use this form if you're a support worker, whānau member or friend seeking support for someone else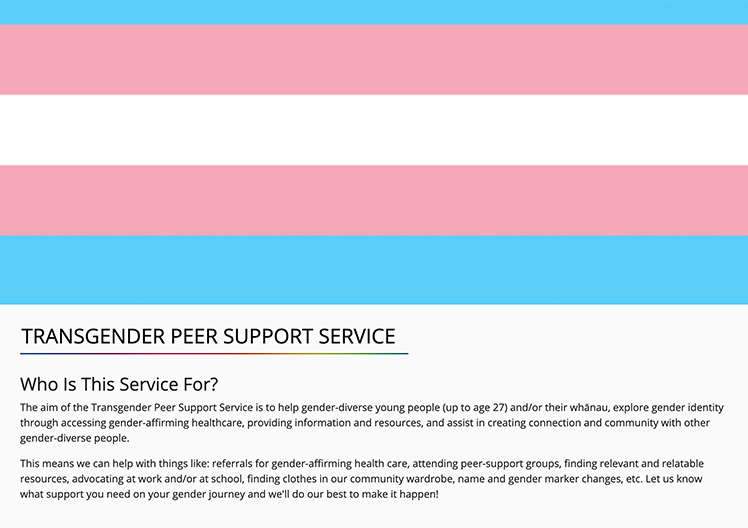 Specific Support for Gender Diversity
Visit this page if you're looking for specific support around gender identity, gender affirming healthcare and anything related to being transgender
Urgent, crisis and after hours support
Our Auckland support hours are 11am to 5pm Monday to Friday. During these times you can call us on (09) 376 4155, or drop in to our walk-in centre at the end of Abbey Street in Auckland Central.
If you're experiencing a crisis, please consider contacting the following help lines: