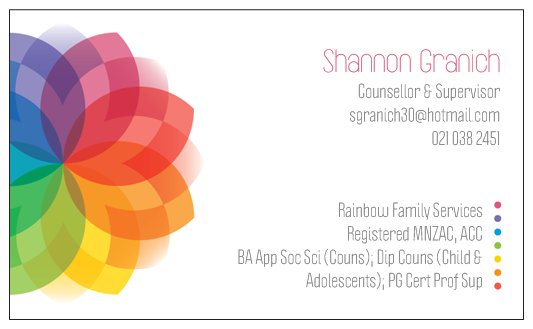 Shannon Granich - Rainbow Family Services
Family Therapy

LGBTIQA+
Trauma and Abuse
ACC registered for sensitive claims (sexual abuse/assault)
EAP registered (Benestar)
Areas of special interest:

Sexuality and gender diversity
Working with people on the spectrum
Bullying issues
Childhood abuse and trauma issues
Sexual abuse issues
Self-harm
Anger management
Parenting and family systems issues
Office Hours
RainbowYOUTH AKL Drop-in Centre
Tuesdays 10am - 8pm
Takanini Office
Mondays 10am - 8pm
Thursdays 10am - 8pm
Rates are as follows:




Individual sessions - $115
Couples sessions - $140
Family therapy sessions - $160
Professional Supervision - $115 (student rates available on request)

Skype/Phone appointments available by request.

All prices are GST inclusive. Appointments necessary.
To book, please contact: sgranich30@hotmail.com OR 021 038 2451